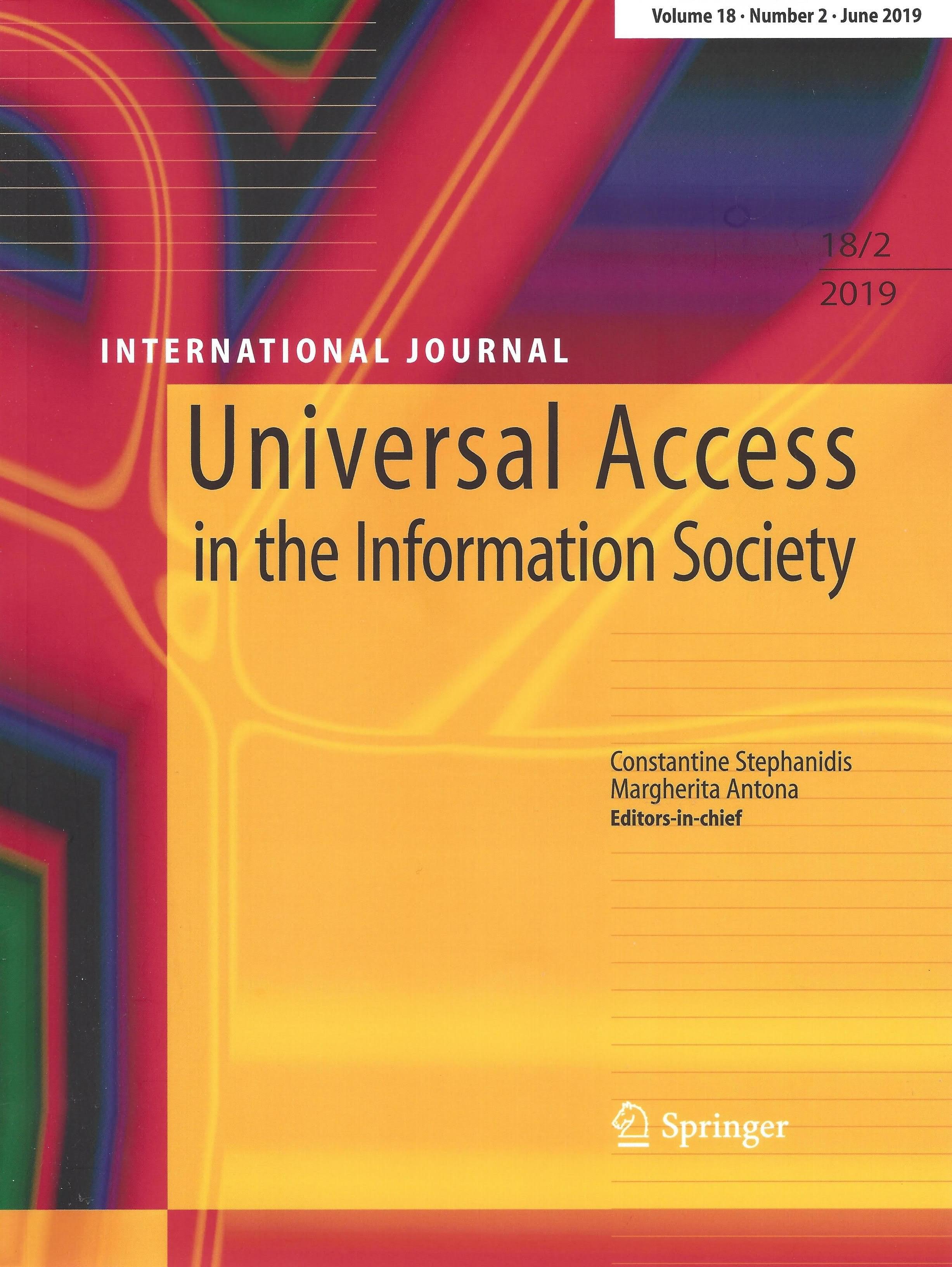 International Journal
Universal Access in the Information Society (UAIS)
Call for Papers
Special Issue on
Accessibility of Tourism 4.0 - Designing more meaningful and inclusive tourist experiences
Guest Editors: Pilar Orero, Miroslav Vujičić, Uglješa Stankov and Ulrike Gretzel
Deadline: August 31st, 2022
About the UAIS Journal
The UAIS Journal solicits original research contributions addressing the accessibility, usability and acceptability of Information Society Technologies by anyone, anywhere, at any time, and through any media and device.
The Journal's unique focus is on theoretical, methodological, and empirical research, of both technological and non-technological nature, that addresses equitable access and active participation of potentially all citizens in the Information Society. For further information, please, refer to the "Aims and scope" section on the Website of the UAIS Journal.
Aims and scope of this special issue
Tourists represent one of the most diverse types of consumers, including a large group of people with disabilities. Many of them frequently face physical, sensory, cognitive, or cultural barriers in service provision and delivery. These barriers may occur in any of the typical tourist experience phases - inspiration seeking, planning, booking, experiencing, and sharing, and they are not limited to any specific type of travel or to a tourism setting. On the other hand, tourism as a technology-dependent industry relies heavily on information technology, and that trend has been even more pronounced with the recent use of Tourism 4.0 technologies and approaches, such as the Internet of Things (IoT), Big Data Analytics, Artificial Intelligence (AI), Blockchain, Location-based Services or Virtual and Augmented Reality Systems. This could potentially further hamper the co-creation of tourist experiences for people with disabilities (and others), despite Tourism 4.0 aiming to provide more sophisticated electronic accessibility (e-Accessibility). At the same time, Tourism 4.0 technologies have the innate qualities to mitigate many accessibility issues and turn them into possibilities by relying on tourists bringing their own devices and by promoting advanced approaches in system design and use.
With this special issue of Universal Access in the Information Society (UAIS), we aim to identify gaps in the current notion of e-accessibility practices in tourism industries that are usually narrow and task-oriented, but also to identify new possibilities brought by Tourism 4.0 technologies that focus on interoperability, virtualization, decentralization, real-time data gathering and analysis capability, service orientation, and modularity. We seek novel ideas and further research directions that will allow for the creation of more inclusive tourism capable of providing more meaningful and stimulating experiences accessible to all types of consumers. We welcome theoretical, methodological, and empirical research, of both a technological and non-technological nature.
Topics of specific interest
Important aspects and topics to be discussed evolve around (but are not limited to):
Accessibility issues of Tourism 4.0 technologies in tourist experience phases (inspiration, planning, booking, experiencing, and sharing)
Examples of innovative use of more inclusive tourism-specific interactive systems (e.g. a booking engines, self check-ins, in-room voice assistants, assistive restaurant robots, smartphone tourism applications, social media sharing)
Technical accessibility aspects of key underlying technologies (tourism websites, touchscreens, voice human-computer interaction, artificial intelligence, immersive technologies, Big data analytics, blockchain, etc.)
Designing tourism-specific scenarios of frictionless and inclusive tourism experiences based on Tourism 4.0 technologies
Anticipated repercussions for the future of more accessible Tourism 4.0 technologies for tourism demand and supply.
Important dates and information
Submission deadline: August 31, 2022.
Notification of review outcome: November 1, 2022.
Resubmission deadline: December 1, 2022.
Publication date: end of 2022, but accepted articles will be published online on a rolling basis before the full special issue is released.
Submission guidelines
Submissions should be prepared according to the author instructions available at the journal homepage, http://www.springer.com/computer/hci/journal/10209. A typical length for a long paper is between 20 and 30 pages. Please also note that 20-30 pages of unformatted ordinary MS Word text would typically result in a shorter document of 12-20 pages, formatted according to the Springer guidelines.
For Invited papers presented at conference sessions, the updated journal submission must significantly extend the original one, comprising at least 70% new and previously unpublished material.
Initial manuscripts must be submitted electronically in the form of PDF file through the Springer Editorial Management System available at https://www.editorialmanager.com/uais/default.aspx. During the submission process, please select the relevant Special Issue in the 'additional information' step.
Reviewing process
All papers will be peer reviewed by three reviewers, experts in the field, appointed by the Guest Editor of the issue in consultation with the Editor-in-Chief of the Journal. Please note that UAIS follows a single-blinded review process, therefore there is no need to anonymize the submissions.
Copyright information
Submission of an article implies that:
The work described has not been published before, except in form of an abstract or as part of a published lecture, conference, review, or thesis.
It is not under consideration for publication elsewhere.
For further information, please, refer to the "Copyright information" section on the Website of the UAIS Journal.
Guest Editors